Eternity, a 2013 summer limited edition fragrance for women by Calvin Klein. It is the most recent addition to my valued item collection. I received this as a farewell gift from the people that I worked with over the summer. The reasoning behind their choice of this perfume as a gift is rather simple: they wanted me to remember my experiences this summer forever, as suggests the name of the fragrance, and apparently, every 20-year-old woman should have her own scent.
The first part of their reason came to me naturally, as the work experience indeed was fun and memorable. The second part, however, captivated me, and all the sudden I formed a personal connection with the gift and now it stands along with my necessary cosmetic collection as a fragrance of my own.
It is strange how the idea of a "personal scent" is appealing when it is so obvious that thousands of other people probably smell the same from using the same product. While unique smells can actually be factors that characterize a person or even an object, it is also a wonder how many people would be able to distinguish between various perfume scents of daisy, japanese pear, acacia, etc to believe that perfumes can help develop one's own scent. When we examine how fragrance is marketed, however, we find that brands actually want to imprint their own image on customers rather than help accentuate the user's character through their product.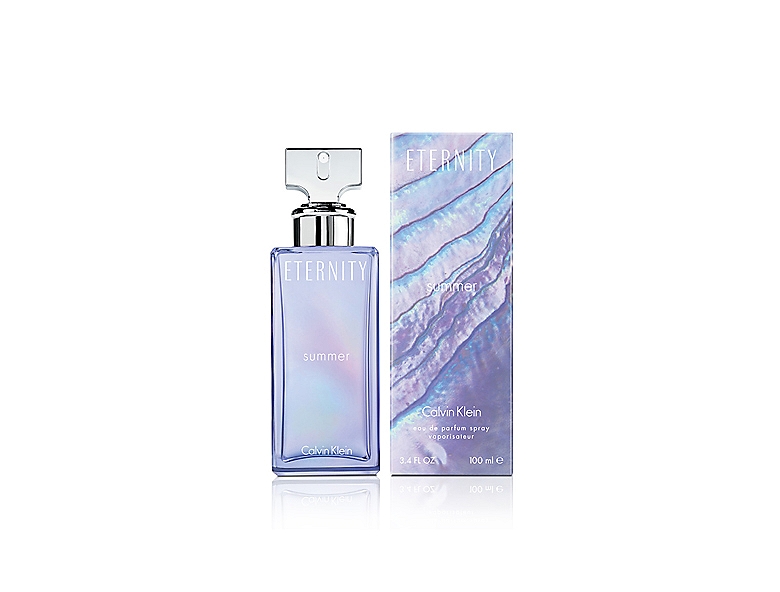 According to Calvin Klein, Eternity Summer 2013 captures "the natural beauty of seashells glistening in the sand on a warm summer day." Thus the impression that CK intended to make with this fragrance most accurately looks like the advertisement below. As a marketing strategy, CK produces an image that defines the smell, but whether the image is transposed in a similar way to me as a consumer is highly questionable. As I started to use this perfume, my friends have simply commented that I became more feminine because I smell like flowers, but they were not reminded of the summer beach image until they were told of the name of the product. They also commented that I seem to have become more beauty conscious, which is true because I now make an effort to smell nice, especially after being hooked on to the idea of having a personal scent.
Although I realize through common sense and through other people's reactions that Eternity Summer 2013 is not my personal scent and that it doesn't successfully impose their product image on me either, but I still am hopeful that one day  people would smell this fragrance elsewhere and be reminded of me. Perhaps this is a common consumer psychology that makes some people obsess over perfumes.